why did i steal this from my son's snack drawer?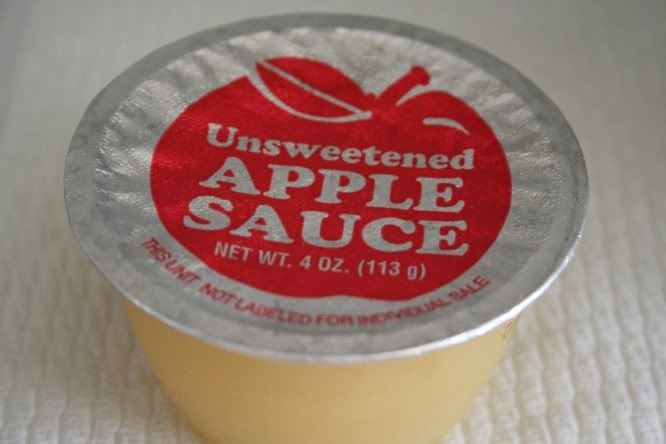 well, because i didn't have apples and i wanted apple pancakes for breakfast.
first off, although a complete dessert/chocolate/pastry addict, the one thing i do is eat a healthy breakfast. mostly. but being an avid baker, sometimes a good homemade pancake, waffle or biscuit just calls my name. my pancakes are typically:
2 heaping cups of self rising flour, sprinkle of sugar, an egg and enough milk to make it into batter, but i have a brunch cook book with an apple pancake recipe. if done right, it's delicious. unfortuntely, if you make one wrong move they are just great instead of FABULOUS. but, great is good too!
apple pancakes:
scant 1.5 c. self rising flour
1/2 c. superfine sugar
1 t. ground cinnamon
1 egg
scant c. milk (i use 1%)
2 apples, peeled and grated
butter for skillet.
mix flour, sugar and cinnamon in a bowl. make a well in the center. beat egg and milk together. pour into well and incorporate the dry ingredients into the wet JUST until mixed. then stir in grated apple.
melt butter in medium heat skillet. cook each one to about a 3.5 inch size.
hopefully you know that when the upside starts to bubble, you flip it. they taste better as the smaller size. trust me. of course the fresh grated apples taste better then applesauce, but sometimes you just have to make do. and also, as i learned today. make sure the egg is fully beat in with the milk. mine wasn't which forced me to mix the entire batter longer then desired. those make the pancakes a bit more spongy. i don't know about you, but i HATE spongy pancakes. its about all you can get from IHOP or CRACKER BARRELL and not to toot my own horn, but my pancakes take their (pan)cake. a fluffy, melt in your mouth, pancake is surely the way to go!
this morning they didn't last long enough for a picture, so i swiped one from the cook-book.