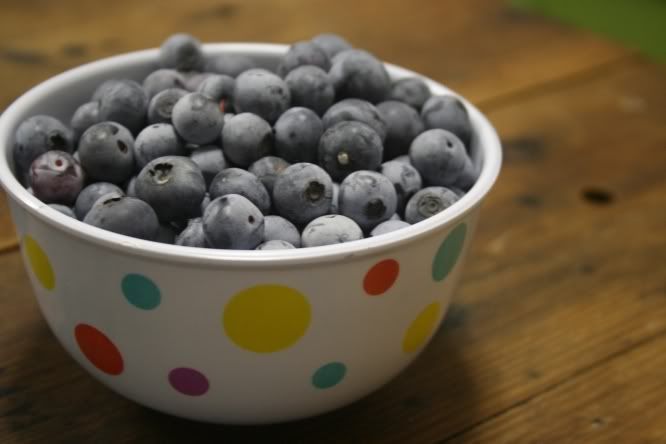 we have blueberry bushes in our yard and this year is amazing! we are picking 3 cups a day and stopping because we cant reach some. by the next day its full again. crazy!
tonight my son and i are alone and after his nap i slaved over a frozen lasagna(poking those holes in the plastic are tedious) and he and i went-a-bluberry-pickin'. we were having such a dorky time that i figured why not bake. i used my banana bread recipe to make blueberry muffins. for half of them i made a streseul topping from that same damn martha stewart book and they were delicious. the batter was good alone. they turned out very moist and cakey...almost fudgy without the chocolate. Mmmmm
blueberry cake muffins
1.5 sticks butter
2 c. sugar
4 eggs
3.25 c. self rising flour
2 c. blueberries, rinsed
1 t. vanilla

~cream butter and sugar. blend in eggs one at a time. beat. add flour, blueberries and vanilla. blend with spoon. pour into muffins papers or ramekins.
bake for 25-30 minutes @ 350 degrees. let sit for 5 minutes, then turn onto rack.
streusel
~5 T. butter, 2/3 c. flour, 2/3 powdered sugar, 1/4 t. cinnamon and a pinch of salt
~~~mix all together with fork or fingers until moist and crumbly. sprinkle on top