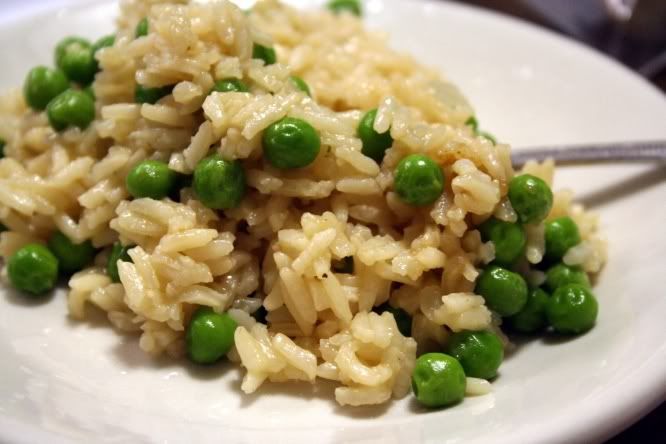 i found this on
home-ec101
and have made it once a week since. its so simple to make and just plain simple all together, but there is something about it that i am in love with. i am a mushy food lover. rice, casseroles, burritoes, pastas, fast food burgers....so i suppose that is why i love this. please try it soon. my son and i often eat it as our main meal.
rice and peas:
~1 T. butter
~ diced small onion
~one cup uncooked white long grain rice (don't try brown. don't!)
~2 cups broth-i dissolve 3 or 4(naughty) bouillon cubes in water.
~1 c. frozen peas
~3 T. grated parmesan
~~~melt butter on medium low and add onions. cook until soft, about 3 minutes. add uncooked rice and stir for about 2 minutes. then add your broth. bring to boil, put lid on and turn to low. let cook for about 17 minutes. then add your peas and parmesan and stir. return lid and cook for about 3 more minutes. eat and have your food orgasm. thank you.