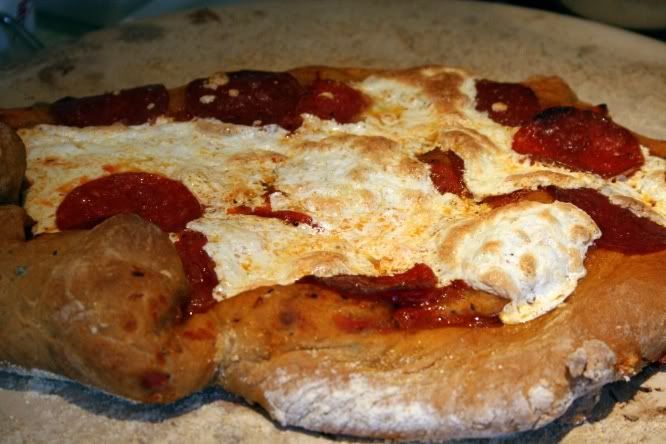 i always loved the idea of pizza night, but ordering out or going somewhere seemed expensive and too much work. i have tried many pizza doughs before and they were okay, but i never made them twice. today i was reading
home-ec101
, again and saw a link to a pizza dough. i trust the author's taste, so i decided to make it for dinner tonight and BOY was i HAppY!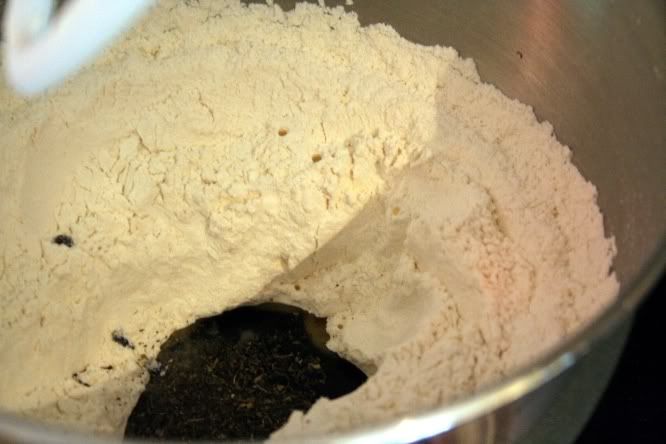 this was the first time i have actually used my dough hook on my mixer. all the wet ingredients go inside a well of the flour. one of them being mollasses. this was a suprise ingredient and i almost couldn't find it at publix. they were out...but luckily they had a jar in the organic section.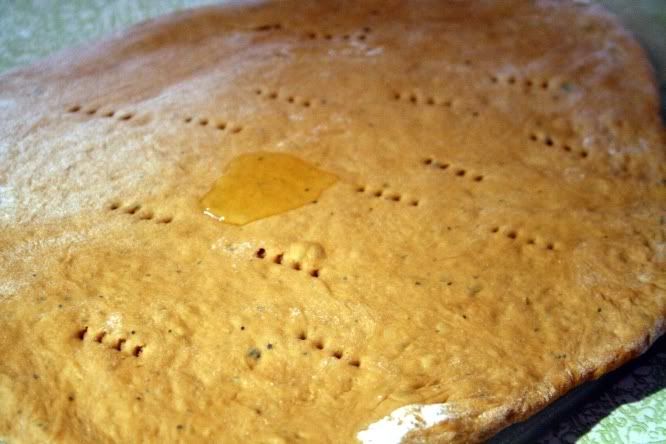 it was my own idea to poke holes in the crust. haha..olive oil and some mashed garlic.
i just made a quick tomato basil. i heated olive oil on medium heat, added some garlic, whole tomatoes, crushed and some dry basil. let simmer while you prepare everything else!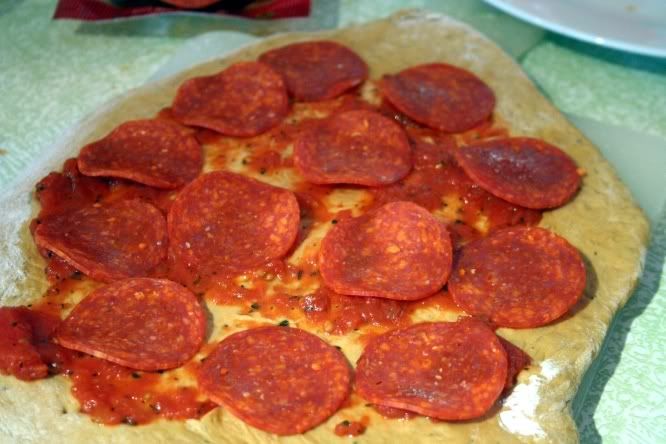 meat for the husband.....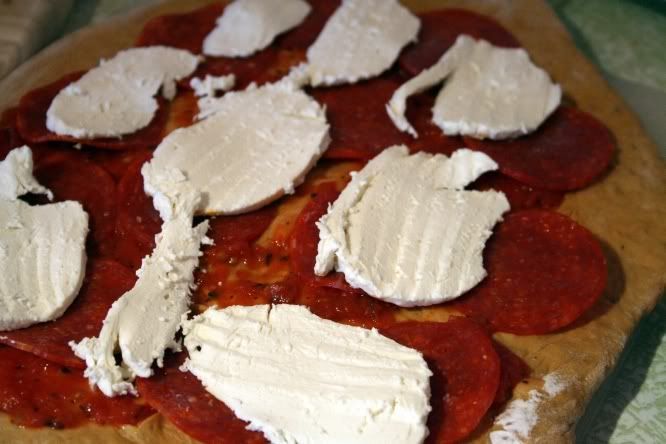 and folks....i bought my first ball of fresh mozzerella! best $6 i EVER spent. and since i will be saving money by making my own dough, i may keep splurging on cheeses. it actually would have worked for 3 pizzas. the dough recipe makes 4.
pizza dough (thank heather):
Ingredients:
1 TBSP active dry yeast
1 1/2 cups warm water
3 1/2 cups bread flour + a little more for dusting
1 1/2 TBSP olive oil + extra to grease the bowl for rising
2 TBSP molasses
1 tsp salt
1 tsp Italian seasoning - OPTIONAL
cornmeal for sprinkling

Directions:
Add the yeast to the warm water and set it aside. Place the flour in a large bowl and whisk it to fluff it up. With your hands, clean please, create a well in the flour. Remember when you used to make a volcano with mashed potatoes and gravy? Yes, just like that.
To make clean up easier, measure the olive oil and then the molasses. There is no chemical reason for doing this, other than the oil lubricates the spoon so you don't have to struggle with the sticky molasses. Add the salt and Italian seasoning.
Does the yeast and water look foamy? Wonderful, add that to the well. If you are using a stand mixer, use your dough hook to stir and knead. Use the lowest setting and only knead it for about a minute after the dough comes together.
If you are kneading by hand, stir the ingredients until they are moist and well mixed. Flour your work surface and knead the dough for around three minutes. Estimate, this is pretty forgiving.
After kneading shape the dough into a ball. (Just like playdough folks, just like playdough). Set aside. Grease a large bowl with olive oil. Place the dough in the bowl, turning it several times to coat with oil. Cover with a damp cloth and allow to rise for at least thirty minutes.
Divide the dough into equal portions. We make 4 thin crust 12″ pizzas, if you prefer thicker crust you will have fewer pizzas. If you have multiple pans allow the dough to sit for ten or fifteen additional minutes, before shaping. If, like me, you only have one pizza stone, immediately begin shaping the dough (with a rolling pin or by tossing)for baking, the other three can rise and your first really won't suffer.
Preheat the oven to 450°F.
If you use a pizza stone, allow the stone to heat for 10 minutes in a 450F oven. If you are using a metal baking sheet, preheating is unnecessary.
Sprinkle the stone or cookie sheet with cornmeal; set the shaped pizza crust on the surface and top with your favorite pizza sauce and toppings. Bake for 10 - 15 minutes (watch it carefully, this depends on your toppings).
Enjoy!